Select your hero, team up with other players, and navigate through infinite waves of zombies.
BAAM SQUAD is a VR zombie co-op shooter following a band of four brave agents seeking to shoot, loot and run in order to solve the mystery case of Santana's Sweets Factory: The place where it's been taken over by zombies eating human flesh and candies.
| | |
| --- | --- |
| Genre | Arcade |
| Aantal spelers | 1 tot 4 spelers |
| Spelduur | Onbeperkt |
| VR Gear | VR Controller |
| Leeftijd | Alle leeftijden (8+) |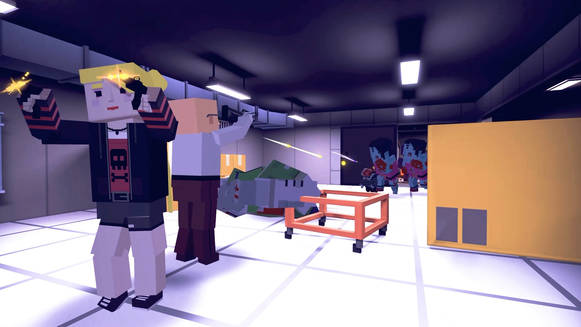 Journey into Sweets Factory – Complete with jelly trampolines, conveyor oven and hot chocolate falls. Vending machines are everywhere selling buffing snacks and mysterious sodas.
Free Exploration – Use controller to walk or run without motion-sickness, teleportation and space restriction.
Weapons – From classic pistol to Sci-Fi laser gun. Collect all 10+ weapons and upgrade them to MAX level, optimizing your chance to survive longer.
4-players Co-op – Play with friends or other players around the world. Up to four players allowed
RESERVEER DIRECT
Durf jij het aan?